Tony's Story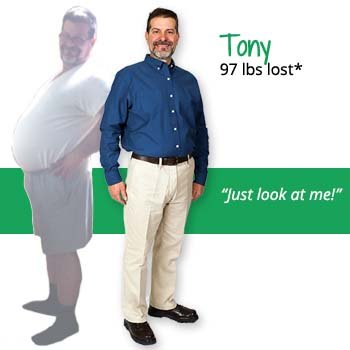 I am Tony Daniele and I have lost 92 pounds with Metabolic Research Center. I retired from the Air Force in October of 2000, and I adopted a very sedentary lifestyle. I ballooned from 205 to 300 pounds, and it took a toll on my body. After losing 97 pounds, I can chase my granddaughter all over, and I can go hiking again! I take the stairs around work instead of the elevator.
I was on blood pressure medications, and now my blood pressure is the lowest it's ever been in my life. I've been off my medication for months now!
Honestly, and I know it sounds weird coming from a guy, I feel fabulous. Most guys go to the gym - they don't pay attention to the foods. You have to pay attention to the diet, too.
I am very quick to recommend this program to anyone looking to lose weight. In my current position, I work with over 5,000 people, and there are some who are bigger than I was. I tell them it really is easy to follow. The team at Colorado Springs has been nothing by nice and supportive to myself and my family the whole way through.
Even if you are a guy, just do it! What do you have to lose? Just look at me !
I'm Ready to Lose Weight!
Schedule My Free Consultation
After submitting this form a Weight Loss Specialist will contact you by email, phone, or text.